Robot Chicken: Star Wars Details Revealed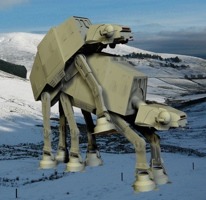 Robot Chicken creators Seth Green and Matthew Senreich have revealed new details about the "Robot Chicken: Star Wars" special which will premiere on Adult Swim on June 17th at 10:00pm. The new 30-minute Seth Green-directed stop-motion animation special will spoof scenes from the Star Wars films. Before you get too excited, be warned that the whole thing was made in collaboration with Lucasfilm. The "Star Wars" special was developed with Lucasfilm's approval at every stage. Lucas even voiced the animated version of himself. Mark Hamill also contributed voice work for Luke Skywalker. The voice cast also includes Conan O'Brien, Seth MacFarlane, Robert Smigel, Malcolm McDowell, Hulk Hogan, James Van Der Beek, Donald Faison, Abraham Benrubi, Breckin Meyer and Joey Fatone.
For those of you who haven't seen Robot Chicken, we have posted some previous tar Wars segments after the jump. I highly recommend you check them out.
[youtube]fVFI_Ra68F0[/youtube]
[youtube]rfP90uJ12eQ[/youtube]
[youtube]UwQV_JJXulM[/youtube]