Dirty Dancing Gets Rereleased In Movie Theaters For 20th Anniversary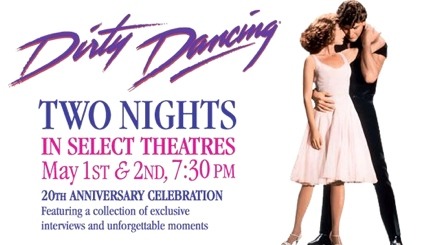 Lionsgate is celebrating the 20th anniversary (God, are we that old?) of Dirty Dancing by rereleasing the film in over 300 movie theaters for a special two night engagement. I really wish they would do this sort of thing for other movies. Back To The Future, Goonies, Jaws, Raiders of the Lost Arc, Ghostbusters are some that immediately pop into my head. Check out the full press release after the jump.
LIONSGATE AND NATIONAL CINEMEDIA'S FATHOM TO BRING BABY OUT OF THE CORNER AND BACK ONTO THE BIG SCREEN TO CELEBRATE 20 YEARS OF "DIRTY DANCING"
1987 Classic Starring Jennifer Grey and Patrick Swayze Returns to Movie Theatres for Two Nights Only â€" May 1 & 2 With Exclusive New Anniversary Segment.
Lionsgate Also Prepares Launch of 20th Anniversary Dirty Dancing DVD as Dirty Dancing Stage Play Phenomenon Heads For North America
Centennial, CO & Santa Monica, CA (April 20, 2007) â€" It may be two decades later, but you can still have the time of your life! Lionsgate (NYSE: LGF), the leading independent filmed entertainment studio, and National CineMedia's Fathom are bringing Dirty Dancing back to the big screen- with brand new 35mm prints with enhanced picture and sound – in a special event on May 1 & 2 , 2007 to celebrate the film's 20th anniversary. Theatergoers will be treated to a never-before-seen, 20-minute exclusive look inside Dirty Dancing featuring a collection of interviews from key people who brought the film to life, a look back on the impact of this modern classic and a glimpse into the Dirty Dancing London stage production.
This exclusive two-night-only event will be presented in over 300 AMC and Regal Entertainment Group movie theatres across the United States at 7:30 p.m. local time. Tickets are on sale now at participating movie theatre box offices and online at www.FathomEvents.com for $10.00. For a complete list of theatre locations, please visit the Web site (theatres are subject to change). Tickets have been selling fast, so fans are advised to purchase tickets in advance to ensure that they don't miss out on this special anniversary celebration.
The theatrical event is part of a 20th anniversary celebration that features the May 1&2 feature film release, a 20th anniversary home entertainment re-release featuring a DVD special edition and Blu-Ray disc, a remastered companion CD from Sony/BMG, a full licensing and merchandising program, and the stage play's continued march across several continents, setting box office records in the process. Lionsgate is an investor in the stage play and also launched the eight-episode "Dirty Dancing: The Reality Show" television show on the WE Network.
First released in 1987, Dirty Dancing redefined date movies and continues to captivate the hearts and minds of generations of fans, generating more than $170 million in worldwide box office receipts and selling more than 10 million DVDs. Starring Jennifer Grey (Ferris Bueller's Day Off) as "Baby" Houseman and Patrick Swayze (Ghost) as the sexy Johnny Castle, Dirty Dancing is the story of a naïve girl who meets an experienced dance instructor and becomes his pupil in dance and love. The Oscar®-winning film (Best Music, Original Song) was recently named one of the Top 10 Date Movies of all time, according to an E! Entertainment Television poll of industry executives and celebrities. Thanks to this 20th anniversary event, both old and new fans nationwide now have a chance to see this classic on the big screen.
Dirty Dancing remains one of the most popular films in Lionsgate's 10,000-title library and is one of the most enduring modern classics in feature film and home entertainment history.
The Dirty Dancing 20th Anniversary Edition DVD, being released on May 8th, is highlighted by Patrick Swayze's first-ever DVD participation with the new filmed interview "Dirty Dancing with Patrick Swayze," and also features deleted and alternate scenes, original screen tests, outtakes, a tribute to Jerry Orbach and much more.
On the fashion front, JEM Sportswear, under its Cold Crush by Awake brand, has designed a full line of Dirty Dancing-inspired vintage tops for women. The tees retail for $24 – $26 and are available at www.80stees.com and Target stores nationwide. In addition to the tees, Next Craze is creating a line of underwear and sleepwear featuring foil lettering and satin ribbons with photographic references to the cult classic.
Other products in the works include a full-color 2008 calendar filled with memorable moments and lines from the movie from Rizzoli as well as movie posters, and from Basic Fun are talking pens, keychains and a projector keychain that projects images from the film at the push of a button. There will also be a Dirty Dancing videogame from Codemasters that lets players work alongside the team at Kellerman's resorts in order to earn camp dollars to purchase memorabilia, cabin furnishings and the all important dance lessons with Johnny and Penny.
The celebration continues when Sony/BMG releases a newly re-mastered anniversary edition of the film's soundtrack with a bonus DVD containing the five music videos from the soundtrack also on May 8th. The bonus DVD also includes a photo gallery with rare behind-the-scenes photos of the making of the film and an exclusive karaoke version of the Oscar-winning song "(I've Had) The Time Of My Life."
The Dirty Dancing stage musical continues to set box office records around the world. After enjoying enthusiastic acclaim in Australia and selling out theatres in Germany for nearly a year in advance, it recently premiered in London, where it set the UK record for pre-opening ticket sales, and currently has a growing advance of more than $30 million. On the heels of that success, the Toronto production of "Dirty Dancing: The Classic Story on Stage" is scheduled for its North American premiere at the Royal Alexandra Theatre in Toronto, where it just achieved a record-breaking $1.65 million in first day ticket sales for its November 2007 opening there. The production is then scheduled to open in the Netherlands in March 2008, with a tour of the United States also kicking off in 2008.
For the latest news on Dirty Dancing's 20th Anniversary, visit www.DirtyDancing.com.
About Lionsgate
Lionsgate is the leading independent filmed entertainment studio, winning the 2006 Best Picture Academy Award® for CRASH, generating two consecutive years of $300 million-plus domestic theatrical box office, operating a $500 million-plus home entertainment business and producing a broad slate of prime time television series for fiscal 2007. It is a premier producer and distributor of motion pictures, television programming, home entertainment, family entertainment, and video-on-demand content. Its prestigious and prolific library of more than 10,000 titles is a valuable source of stable, recurring revenue and a foundation for the growth of the Company's core businesses. The Lionsgate brand is synonymous with original, daring, quality entertainment in markets around the world.
About National CineMedia
National CineMedia LLC operates the largest digital in-theatre network in North America through long-term agreements with its founding members, AMC Entertainment Inc., Cinemark USA, Inc. and Regal Entertainment Group (NYSE: RGC), the three largest movie theatre operators in the U.S., and through multi-year agreements with several other theatre operators. The company produces and distributes its FirstLook pre feature program; cinema and lobby advertising products; comprehensive meeting and event services and other entertainment content in movie theatres nationally. NCM's national network includes over 14,000 screens of which approximately 12,000 are part of the company's Digital Content Network (DCN). The national DCN is available in 154 Designated Market Areas® (49 of the top 50). During 2006, approximately 550 million patrons attended movies shown in theatres owned by NCM's founding members. National CineMedia, Inc. (NASDAQ: NCMI) owns a 44.8% interest in and is the managing member of NCM LLC. www.ncm.com