28 Weeks Later International Movie Poster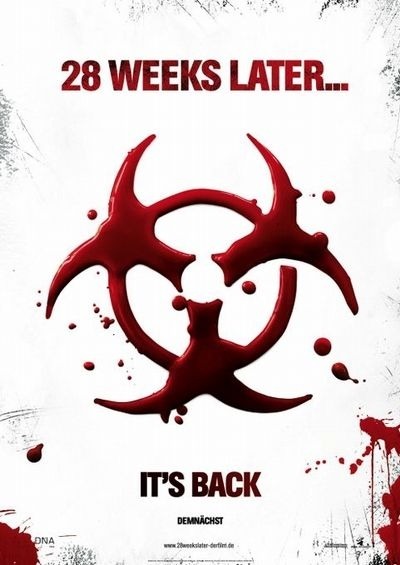 28 Weeks Later has a new international poster. Fox Atomic decided to go the bloody route with this one-sheet. I'm guessing that MPAA has no jurisdiction over foreign film posters, because I don't think this would fly in the States. Click on the poster for a better view. Thanks to IMPAwards for the heads up.
Official Synopsis: 28 WEEKS LATER, the follow-up to the terrifically successful 28 Days Later, picks up six months after the rage virus has annihilated the British Isles. The army declares that the war against infection has been won, and that the reconstruction of the country can begin. As the first wave of refugees return, a family is reunited – but one of them unwittingly carries a terrible secret. The virus is not yet dead, and this time, it is more dangerous than ever. Robert Carlyle, Rose Byrne, Catherine McCormack ,Jeremy Renner, Idris Elba, and Harold Perrineau lead a talented cast which also includes newcomers Mackintosh Muggleton and Imogen Poots. Juan Carlos Fresnadillo (Intacto) directs, while Danny Boyle and Alex Garland, the minds behind the first film, executive produce.
28 Weeks Later hits theaters on Friday, May 11th 2007.