Contest: Deja Vu On DVD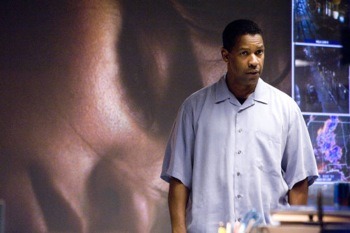 Deja Vu hits DVD store shelves on April 24th, and we have a copy for one lucky /Film reader. All you need to enter is to e-mail us with the reason why you should win. On April 26th we will e-mail the winner with the best answer. More information on the release can be found after the jump.
From critically-acclaimed director Tony Scott (Man on Fire, Crimson Tide, Spy Game) and blockbuster producer Jerry Bruckheimer (Pirates of the Caribbean: Dead Man's Chest, National Treasure, Pearl Harbor), Déjà Vu, an unexpected flash of memory when meeting someone or something completely new,   guides an FBI agent through the investigation of a shattering crime only to find the phenomenon isn't merely "in his head," but something far more powerful.  Starring two-time Academy Award® Winner Denzel Washington, (Best Actor for Training Day, Best Supporting Actor for Glory, Inside Man) Val Kilmer (Spartan, Kiss Kiss, Bang Bang, Alexander) and an exciting cast, Déjà Vu grabs audiences for a thrilling chase through time to save hundreds of innocent lives.
Loaded with explosive bonus features, this captivating DVD begs audiences to experience the mystery of Déjà Vu. Bonus features include the innovative "The Surveillance Window," which allows users to go back in time with the filmmakers and experience on set, behind the scenes moments just before they happen in the film, plus exclusive deleted scenes.