Contest: Smokin Aces On DVD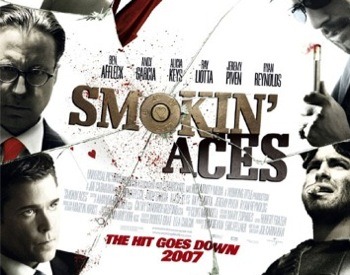 Smokin Aces hits DVD store shelves today (April 17th), and we have a copy for one lucky /Film reader. All you need to enter is to e-mail us with the reason why you should win. On April 22nd we will e-mail the winner with the best answer. More information on the release can be found after the jump.
Slick Las Vegas illusionist Buddy "Aces" Israel isn't playing nice. Turns out, he's telling mob secrets to the FBI. After a $1 million contract is put out on him, Aces tries to pull his greatest disappearing act before a rogues' gallery of ex-cons, hit men and smokin' hot assassins tries to rub him out in this dark action comedy that takes no prisoners.