No Reservations Production Photos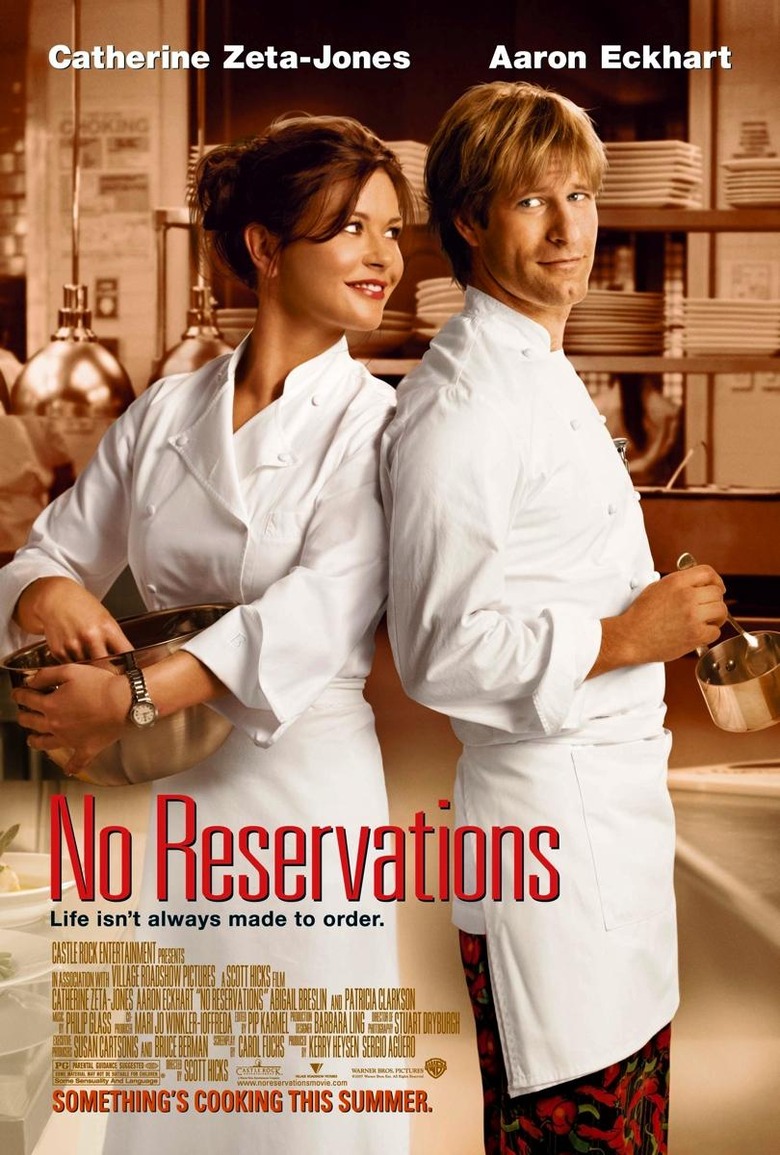 Warner Bros sent over 20 new production photos from No Reservations (Movie Trailer), the by the book dramatic crisis romantic comedy, complete with the overtly cute little kid (who you might reccognize as Abigail Breslin from Little Miss Sunshine). We're not really too interested in this one, but since we have the photos, I may as well post them (and heck, some of our female readers might be interested). Check out the photos and official plot synopsis after the jump. As always, left click to enlarge the photos.
Master chef Kate Armstrong (CATHERINE ZETA-JONES) lives her life like she runs the kitchen at upscale 22 Bleecker Restaurant in Manhattan-with a no-nonsense intensity that both captivates and intimidates everyone around her. With breathtaking precision, she powers through each hectic shift, coordinating hundreds of meals, preparing delicate sauces, seasoning and simmering each dish to absolute perfection.
More at ease behind the scenes, Kate only leaves the sanctuary of her kitchen to accept compliments for one of her signature dishes, or, on rare occasions, to tangle with a customer who dares question her technique. After work, most nights find her in bed before midnight, set to rise at dawn to beat her competition at the fish market for the next day's freshest selections.
Kate's perfectionist nature is put to the test when a brash new sous chef joins her staff, the high-spirited and freewheeling Nick Palmer (AARON ECKHART). A rising culinary star himself, Nick favors opera while working and loves to make everyone around him laugh. His casual approach to both life and cuisine couldn't be more different than Kate's, yet the chemistry between them is undeniable…as is the discord, like forks clanging off a granite countertop.
It might be easier to deal with this turbulence at work if Kate wasn't already off balance at home, struggling to connect with her nine-year-old niece, Zoe (ABIGAIL BRESLIN), who has recently-and very unexpectedly-come to live with her. A bright, perceptive child more comfortable with fish sticks than foie gras, Zoe is clearly out of place in Kate's routine but Kate is determined to make a home for her…just as soon as she figures out how.
As the weeks progress, Kate is not sure what steams her more-that Nick's talent scores big points with 22 Bleecker's owner, Paula (PATRICIA CLARKSON), and its discriminating clientele, or that his easygoing charm quickly wins over the shy Zoe, who finds it easier to open up to him than to her aunt.
But when he challenges the boundary between rivalry and romance, Kate finds herself questioning, for the first time in years, some of the choices and beliefs that have made her so self-sufficient and so safe.
If she wants to forge a real bond with Zoe, find happiness with Nick and rediscover her appetite for life, she will have to try something bold and new, and learn to express herself outside the realm of her kitchen.
For Kate, that would be like trying to cook without a recipe.
Castle Rock Entertainment presents, in association with Village Roadshow Pictures, a Scott Hicks Film: "No Reservations," starring Academy Award winner Catherine Zeta-Jones ("Chicago"), Golden Globe nominee Aaron Eckhart ("Thank You for Smoking"), SAG Award winner and Oscar nominee Abigail Breslin ("Little Miss Sunshine") and Academy Award nominee Patricia Clarkson ("Pieces of April").
The romantic drama is directed by Scott Hicks (Oscar nominee for "Shine"), from a screenplay by Carol Fuchs, and produced by Kerry Heysen ("Hearts in Atlantis") and Sergio Agüero (Spain's Goya Award-nominated "Princesas"). Susan Cartsonis ("What Women Want") and Bruce Berman ("Happy Feet," "Charlie and the Chocolate Factory") serve as executive producers. Mari Jo Winkler-Ioffreda ("In Her Shoes") is co-producer. Oscar nominee Stuart Dryburgh ("The Piano") is the director of photography; Barbara Ling ("Hearts in Atlantis"), the production designer; and Oscar nominee Pip Karmel ("Shine"), the editor. Music is by Philip Glass (Oscar nominee for "The Hours," "Kundun" and "Notes on a Scandal"). Costumes are by Melissa Toth ("Eternal Sunshine of the Spotless Mind"). "No Reservations" is based on the screenplay "Mostly Martha," by Sandra Nettelbeck, produced by Christoph Freidel and Karl Baumgärtner.
The film will be distributed worldwide by Warner Bros. Pictures, a Warner Bros. Entertainment Company, and in select territories by Village Roadshow Pictures. It is rated PG for "some sensuality and language."