EXCLUSIVE: 20 Minute Sneak Preview Of Hairspray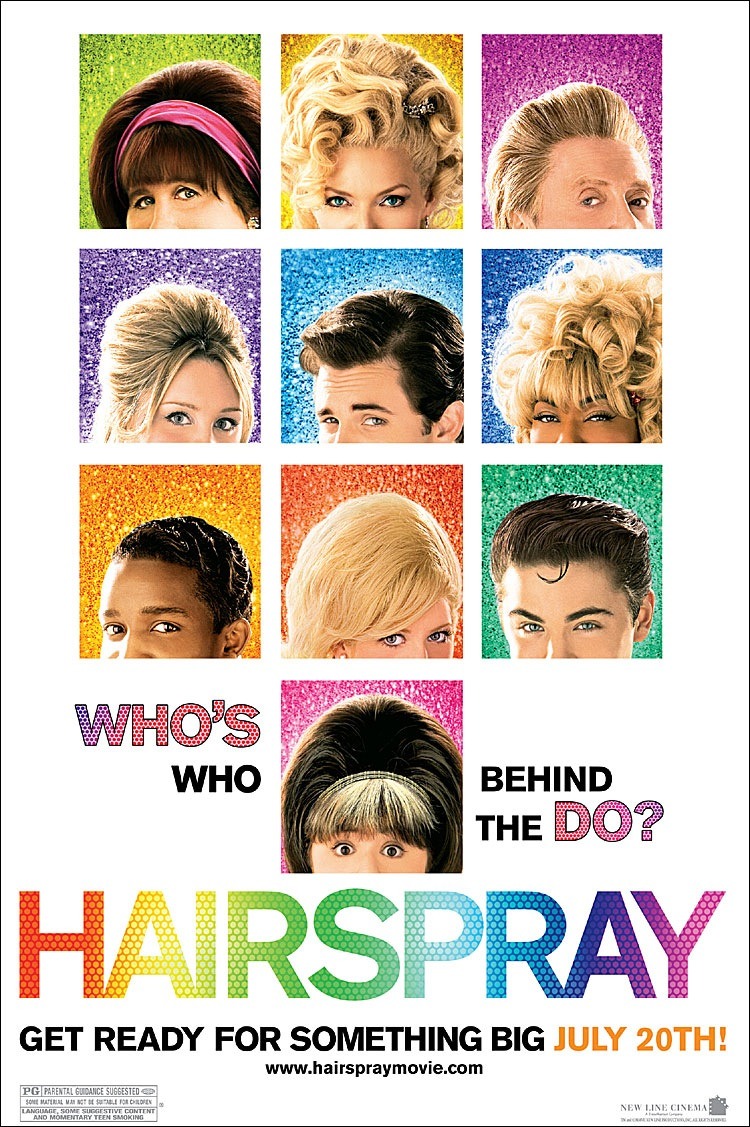 Last night I was lucky enough to be invited to a very special presentation of Adam Shankman's Hairspray at Dolby Laboratories. I must admit, I'm not a fan of musicals, or at least I haven't been in the past. Baz Luhrman's Moulin Rouge! was my first positive experience in the genre. And Dreamgirls became one of my favorite films of last year (although not in my top 10). I'm very critical of the genre, and I sometimes wonder it's value in contemporary times. That said, New Line has definitely created something magical with the New Hairspray. Read on.
The screening room in the Dolby Labs is a wooden modernized art deco design, with a small stage, curtain, and stadium seating. While I sat in my seat waiting for the presentation I looked around wondering where the speakers were. I didn't see a single speaker, ANYWHERE. And you would expect a place like Dolby would have a jacked up sound system. And you would be correct. I later discovered while exiting the screening room that the entire wall is a speaker. What seems to be wallpaper is actually that mesh speaker material. The sound was quite incredible.
Hairspray director Adam Shankman came out and introduced himself. He claimed that this film was "the best experience" he'll ever have. He talked about how everyone in the cast signed on because they really wanted to do this movie. Adam said that Michelle Pfeiffer supposedly calls herself Dr. No, because she never says yes to movie offers anymore. He talked briefly about the original John Waters film, and how Waters told him "You have to do your own thing."
"Which is a very sweet thing to say to the guy who made Cheaper By The Dozen 2," joked Shankman. "Which I did completely as a favor."
Shankman is an incredible speaker. He talks and you listen as the stories pour out of his mouth and fill the room.
The lights then went down and we saw a 20 plus minute preview of the film which Shankman called a "Franken Trailer." It consisted of pieces of songs, pieces of scenes, montage segments that seem like they should be part of a theeatrical trailer, and more. We were warned that parts of the cut were not completely finished, although you wouldn't have noticed at all from the footage.
The footage began with newcomer Nikki Blonsky, who plays the lead character – Tracy Turnblad in the film, waking up to get to school. She misses the bus and is forced to hitch a ride. The whole thing is done in this wonderfully music number which is perfectly cut. You can see the love and time that must have gone into the story-boarding and choreography of this sequence.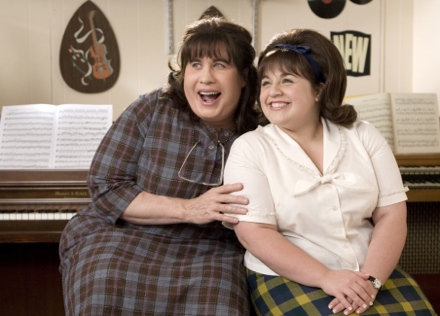 The next segment followed Tracy and her best friend Penny Pingleton, played by Amanda Bynes, as they rushed home to catch the Corny Collins show on television. Tracy tries to convince her mother, played by John Travolta in a female fat suit, into letting her audition for the tv show. She of course says no, but her father, played by Christopher Walken says yes. If there is one trepidation I have about the footage I viewed, it would be the over the top performance of Travolta. His part seemed so out of place, and more like a gimmick than anything else. Walken is, well, Walken. You can never go wrong with him, even in the worst film.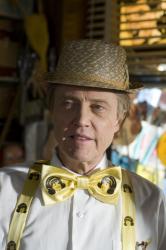 We then see Tracy at the tryout, where she blows away Corney Collins, played by James Marsden. There is so much going on in this film. It's so colorful, and over the top. The dance numbers are what you would expect from an old Hollywood musical. For example, the next one they showed involved Tracy and her mother leaving a thrift store. I'm not exactly sure about the context but the pair start dancing and singing in the street where 30 or so random people join in for a big dance number.
We also got a glimpse of Queen Latifah (who plays Motormouth Maybelle) at a record store party. Tracy's mom shows up an embarrasses her but is quickly appeased by the offer of food. The preview ended with a montage of slips from throughout the film, in trailer fashion.
When the footage ended, the whole screening room broke out in applause. I can't stress to you how great some of this footage was. Shankman really went for it, with confidence, and without holding back.
The director again thanked the crowd and thanked New Line for green-lighting the film when other musicals weren't doing so well. I can only assume he meant Rent.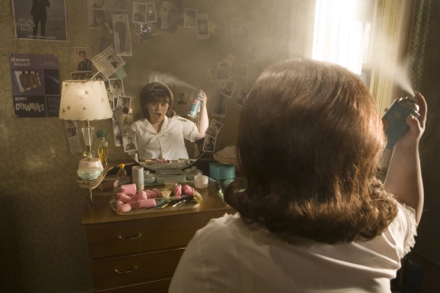 A reception was held in the lobby with food and wine. I was able to speak with the producer Neil Meron, who actually admitted that he wasn't completely happy with the 20+ minute preview reel. He claims that the preview footage doesn't do the film justice, and he wished that New Line would have let them show the whole thing. Usually such a statement could be dismissed as hype, but I got the feeling that Meron's feelings were authentic. He seemed really pleased with the result.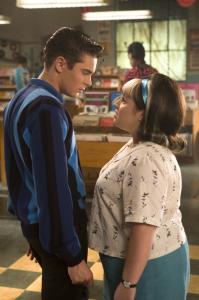 I also discovered that the film's lead, Nikki Blonsky, was a complete newcomer. She has done nothing before this. The casting director discovered Nikki on MySpace. So expect to hear a lot about that leading up to the movie's release. If it weren't for the recent Jennifer Hudson/Dreamgirls performance I'd probably be praising Nikki, who seems to be perfect for the role of Tracy.
I also learned that Marissa Jaret Winokur (from the musical cast), Rikki Lake (from the John Waters film), and newcomer Nikki Blonsky (from the Shankman film) had just recorded a version of "Mama, I'm a Big Girl Now" for the soundtrack release.
I asked Shankman if John Waters had seen any of the footage yet, and he told me that not only had Waters seen the movie, but he loved it. So take that for what it's worth.
One thing is for sure, Hairspray is one to watch this Summer, let's just hope if doesn't get buried between all the Threequels being released. Hairspray hits theaters on July 20th 2007.