Sanaa Hamri To Direct The Sisterhood Of The Traveling Pants Sequel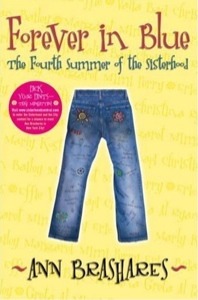 Warner Bros has hired music video turned feature film director Sanaa Hamri to helm a sequel to the big screen adaptation of The Sisterhood of the Traveling Pants. The original 2005 film starred America Ferrera (Ugly Betty), Amber Tamblyn, Alexis Bledel (Gilmore Girls) and Blake Lively, all of wholm are in talks to return.
The likely to be PG-13 sequel will not be based on the follow-up novel, The Second Summer of the Sisterhood, but will instead be based on the fourth book in the series: Forever in Blue: The Fourth Summer of the Sisterhood. However, bits from the second and third books (Girls in Pants: The Third Summer of the Sisterhood) will be included in this next movie.
Forever in Blue: The Fourth Summer of the Sisterhood was released earlier this year, and is the fourth novel in Ann Brashares's aclaimed Sisterhood series. The story concludes the adventures of four girls who share a pair of magical pants that fit each one of them perfectly, despite their vastly different shapes and sizes. The book description for Forever in Blue follows:
With unraveled embroidery and fraying hems, the Traveling Pants are back for one last, glorious summer.
Lena: Immerses herself in her painting and an intoxicating summer fling, fearing that the moment she forgets about Kostos will be the moment she sees him again.
Carmen: Falls under the spell of a sophisticated college friend for whom a theatrical role means everything and the heritage of the Pants means nothing.
Bridget: Joins a dig for an ancient city on the coast of Turkey and discovers that her archaeology professor is available in every way except one.
Tibby: Leaves behind someone she loves, wrongly believing he will stay where she has left him.
Join Ann Brashares's beloved sisterhood once again in a dazzling, fearless novel. It's a summer that will forever change the lives of Lena, Carmen, Bee, and Tibby, here and now, past and future, together and apart.
Hamri has directed music videos for The Notorious B.I.G, Mary J. Blige, Jay Z, Prince, Mariah Carey and Sting. Her first feature film, Something New, was released last year.
Production will begin on June 3rd 2007 in Greece, before moving on to New York and Connecticut.