First Photo: Heath Ledger As The Joker In The Dark Knight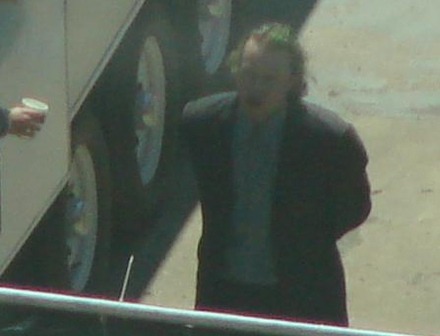 Update: Warner Bros has released the first official photo of Heath Ledger as The Joker at this link. Scroll down, it's near the bottom.
Speculation has been running wild on what Heath Ledger will look like as The Joker, in Christopher Nolan's Batman Begins sequel, The Dark Knight. picktaker1975 caught the actor on set, and took a few photos from afar. Sure, you can't see much but we do see some make-up and the neon green hair. Some people had speculated that Nolan's Joker would be darker, with less colorful hair and make-up. But so far, that appears to be untrue. Too bad, I was actually hoping for a darker look. A couple more photos after the jump. As always, click to enlarge. The Dark Knight will hit theaters on July 18th 2008.