Laurence Fishburne To Voice The Silver Surfer In Fantastic Four 2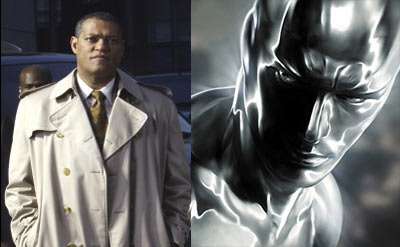 Last week AICN reported that Laurence Fishburne would voice Galactus in Fantastic Four: Rise of the Silver Surfer. They were WRONG! Fishburne will instead voice the Silver Surfer, who is played by Doug Jones.
The Surfer, who first appeared in 1966, was a young astronomer named Norrin Radd of the planet Zenn-La. Radd agreed to serve as herald to the god-like entity, Galactus, in order to save Zenn-La from the world devourer's insatiable hunger. Granted enormous powers , a silvery appearance and a surfboard-like vehicle – all of which were modeled after a childhood fantasy of Radd, the Silver Surfer roamed the cosmos, searching for new planets for Galactus to consume. In the new film, the Fantastic Four will square off against the powerful Silver Surfer and the planet-eating Galactus. Galactus has consumed countless planets, resulting in the elimination of entire extra-terrestrial civilizations.
I always imagined the Silver Surfer would sound more like the traditional surfer (think Keanu Reeves) than Fishburne. But my knowledge of the character is pretty limited.
Fantastic Four: Rise of the Silver Surfer will hit theaters on June 15th 2007.