Simon Kinberg Takes On The Hardy Men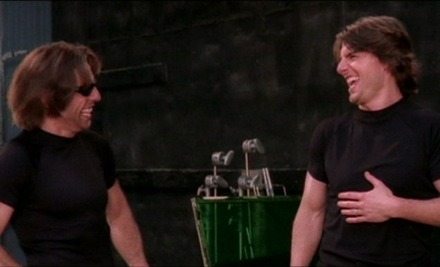 Fox has hired Mr. & Mrs. Smith screenwriter Simon Kinberg to do a complete overhaul of The Hardy Men.
Kinberg has also written: xXx 2, X-Men: The Last Stand, and the upcoming Hayden Christensen/Samuel L. Jackson sci-fi thriller Jumper.
As we previously reported, Ben Stiller and Tom Cruise star as once wunderkind youth sleuths, have grown up. Long estranged, they're brought together to solve one last case. The action comedy is based on the classic mystery book series The Hardy Boys. The movie re-teams Stiller with Night at the Museum director Shawn Levy. The studio hopes to put the film into production by 2008.
Cruise first met Stiller after seeing his Cruise impersonation on The Ben Stiller Show. The two starred together in a 2000 short film titled Mission: Improbable, in which Stiller portrayed a stuntman for Cruise on Mission: Impossible 2. You can see that short film at this link.
The original Hardy Boys book series was produced between 1927 and 1979 under the pen name Franklin W. Dixon. Although various ghostwriters were employed, under contract of secrecy, to pen the actual stories. In the book series, the brother amateur detectives solved mysteries in the fictional city of Bayport (on Barmet Bay) with their famous father, Fenton Hardy, a private detective formerly with the New York Police Department (something Veronica Mars later stole payed homage to).