Knocked Up Production Photos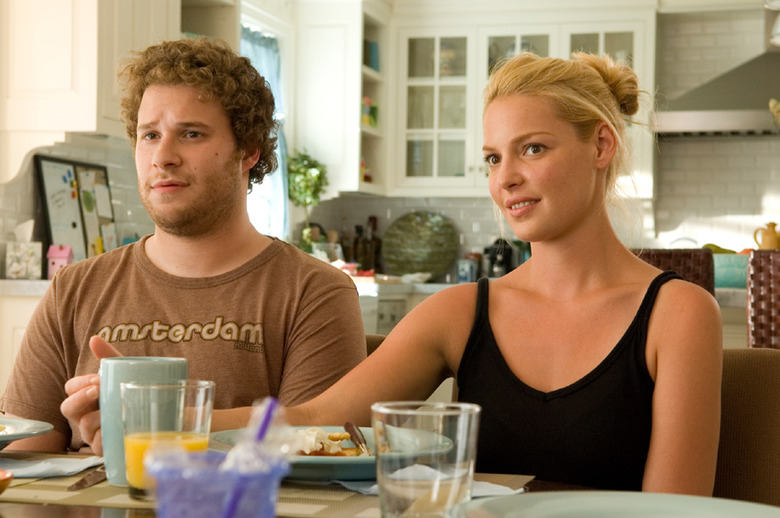 40 Year Old Virgin is the best comedy film of the last five years (on second thought, Borat might also have a chance at the thrown, but for the sake of argument let's say it's Virgin). Judd Apatow knows how to do comedy, and underrated comedy geniuses Seth Rogen and Paul Rudd have returned for Knocked Up. Some of you have already started to see this flick at some super secret College screenings. The film is getting rave reviews all over the place. Not just from the normal folks, but also from reviewers. If you havent yet seen the movie trailer or posters, check them out at the respective links. Below we bring you seven new production photos from the upcoming film.
Updated Studio Synopsis:
On the heels of 2005's blockbuster The 40-Year-Old Virgin, writer/director Judd Apatow again mines hilarity from the relatably human in a comedy about a one-night stand with unexpected consequences: Knocked Up. Katherine Heigl (Grey's Anatomy, Roswell) joins Virgin alums Seth Rogen, Paul Rudd and Leslie Mann for a comic look about the best thing that will ever ruin your best-laid plans: parenthood.
Allison Scott (Heigl) is an up-and-coming entertainment journalist whose 24-year-old life is on the fast track. But it gets seriously derailed when a drunken one-nighter with slacker Ben Stone (Rogen) results in an unwanted pregnancy. Faced with the prospect of going it alone or getting to know the baby's father, Allison decides to give the lovable doof a chance.
An overgrown kid who has no desire to settle down, Ben learns that he has a big decision to make with his kid's mom-to-be: will he hit the road or stay in the picture? Courting a woman you've just Knocked Up, however, proves to be a little difficult when the two try their hands at dating. As they discover more about one another, it becomes painfully obvious that they're not the soul mates they'd hoped they might be.
With Allison's harried sister Debbie (Mann) and hen-pecked brother-in-law Pete (Rudd) the only parenting role models the young lovers have, things get even more confusing. Should they raise the baby together? What makes a happy lifetime partnership after all? A couple of drinks and one wild night later, they've got nine confusing months to figure it out...Production Photos:
Knocked Up hits theaters on June 1st 2007.