Contest: Life Of The Party On DVD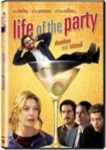 Life of the Party hit DVD store shelves yesterday (April 10th), and we have a copy for one lucky /Film reader. All you need to enter is to e-mail us with the reason why you should win. On April 17th we will e-mail the winner with the best answer. More information on the release can be found after the jump.
30-something Michael Elgin (Bailey), former high school track star, keeps reality at bay by having a few too many cocktails.  His wife (Pompeo) is ready to leave him, and his career is hanging by a thread.  When he crashes his friend's car and emerges unscathed, he scares those who care bout him into organizing an intervention.  Michael comes home to find his friends, co-workers, parents, wife, and new girlfriend waiting. When the psychiatrist who was supposed to guide them never shows up, Michael takes over and turns the event into yet another party.  Secrets are revealed, emotions erupt, relationships unravel and Michael must find a way to pull his life back together and save his marriage.
DVD extra features include :
-Â Â Â Â Â Â Â Â Â  Filmmaker Commentary
-Â Â Â Â Â Â Â Â Â  "The Making of Life of the Party" Featurette
-Â Â Â Â Â Â Â Â Â  Trailer Gallery