DreamWorks Sells Disturbia On Justin.tv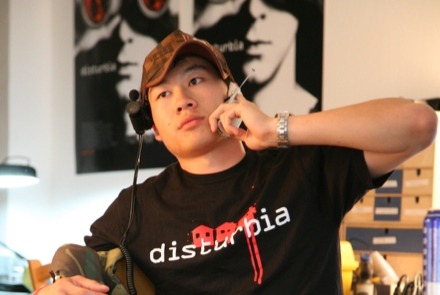 Justin.TV has been online for almost 25 days now. For those of you who don't know, a guy named Justin has been wearing a camera 24 hours a day, 7 days a week. He even wears it in the bathroom, and you can even watch him while he sleeps. The Internet Edtv concept is interesting. I've been watching (when I find some time) since day 2, and I can't wait to see how far they take it.
Justin has been (trying to) fund the whole operation with sponsorships. He has advertisements all over his apartment (GoDaddy, Bawls) which is at least somewhat funding the project. One of the new sponsors is DreamWorks' Disturbia. In addition to the standard web ad banner, Justin has plaster a couple of the posters on his wall and is also wearing a Disturbia shirt. What an interesting new way to market a movie. And it gets even better. As part of the promotion, Justin self-imposed himself to a house arrest (just like the movie) in his North Beach San Francisco apartment/headquarters. You can check out more photos from the sit-in at LaughingSquid (one of our favorite sites on the internet) or just go watch Justin.Tv for yourself. Warning: it's addicting.