Waitress Production Photos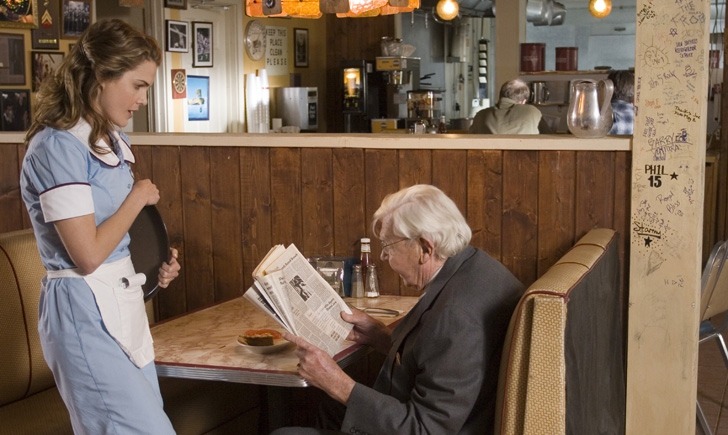 Andy Griffith (old Joe) tells Keri Russell her horoscope for the day.
Fox Searchlight seems to have the Sundance purchase down. Last year they bought Little Miss Sunshine. Two years earlier, the studio picked up Garden State and Napoleon Dynamite. This year the studio went crazy and made four purchases: The Savages, Joshua, Once and Waitress. Unfortunately I've only seen one of the four films (Joshua, which has good horror/thriller appeal). We waited in line for two hours to see Waitress (that was the film will all the buzz) and we still didn't get in. But everyone totally dug this flick (it currently has an 8.2 imdb rating), so I'm pretty sure this will be Searchlight's Sundance 2007 breakout film. So while you might not think you want to see this movie yet, chances are you will. Be an early adopter, here is your chance.
Anyway, we've previously posted the theatrical trailer, and now comes a set of nine production photos. As always, left click for a better view.
Keri Russell and Cheryl Hines talk to Adrienne Shelly before her big date.
Keri Russell gives Nathan Fillion a lesson in baking pies.
Jeremy Sisto gets Keri Russell from the bus stop.
Cheryl Hines and Keri Russell gush over Adrienne Shelly's big secret.
Keri Russell floats on cloud nine as Cheryl Hines and Lew Temple look on.
Keri Russell and Andy Griffith join in the celebration.
Nathan Fillion tells Keri Russell of his fond memories.
Waitress hits theaters on May 2nd 2007, and will expand in the coming weeks.