Good News: Halle Berry Won't Play Catwoman In Justice League Movie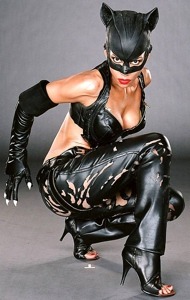 As you know, Warner Bros is developing a movie based on the popular DC Comic Book super team, The Justice League of America. People have speculated wether Christian Bale and Brandon Routh would reprise their roles as Superman and Batman in the upcoming film. But what about Halle Berry? What about Catwoman? Thankfully Halle has no interest in doing that again.
"No, no! You guys didn't like Catwoman the first time, and I'm not a masochist," Berry told cinematical. "I love it [playing Catwoman], but my ego is in check, and I'm not just gonna do it for the sake of, you know, doing it for myself. I make movies for people, and if people don't really want to see that, then I wouldn't make the same mistake twice, obviously. I wouldn't choose to do that."
Thank God. Someone should probably ask Halle why she made Perfect Stranger when people don't want to see it (or do they?).