Bad Ideas: The Fast And The Furious 4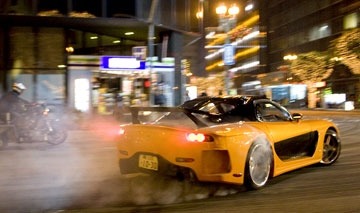 I for one actually enjoyed the first film, probably more for it's unintentional laughs and action than it's formulaic plot and porno-level acting. But how The Fast and the Furious series made it past 2 Fast 2 Furious is beyond our comprehension. The only reasoning we can come up with is there must be some huge interest in seeing this type of film in urban markets. God knows it's not because of the story. Well Universal has hired screenwriter Chris Morgan (Cellular, The Fast and the Furious: Tokyo Drift) to write a fourth installment.
No word on the title, storyline or cast, although we assume that the series will remain overseas in an attempt to keep the landscape interesting. And with the last film grossing over $65 million in theaters and probably double that on DVD, I'm sure we'll see the day of Fast and the Furious 10: More Faster and More Furiouser. I dread the day.