Contest: Bobby On DVD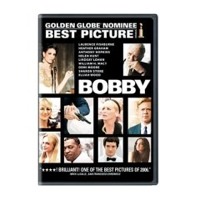 Bobby hits DVD store shelves today (April 10th), and we have a copy for one lucky /Film reader. All you need to enter is to e-mail us with the reason why you should win. On April 15th we will e-mail the winner with the best answer. More information on the release can be found after the jump.
Revisit the night in 1968 when Robert F. Kennedy was gunned down at the Ambassador Hotel through 22 individuals. Each are at the hotel for different purposes but share the common thread of anticipating Kennedy's arrival at the primary election night party, which would change their lives forever. This historic night is set against the backdrop of the cultural issues gripping the country at the time, including racism, sexual inequality and class differences.
The deeply personal project from director Emilio Estevez showcases a deft combination of fact, fiction, and fate through the interwoven stories of 22 individuals who were at the Ambassador Hotel the night Kennedy was killed.
The film features a massive cast of Hollywood's most respected top talent, including Oscar®-winners Anthony Hopkins and Helen Hunt, Oscar®-nominees Laurence Fishburne, Sharon Stone and William H. Macy as well as Demi Moore, Ashton Kutcher, Lindsay Lohan, Elijah Wood, Christian Slater, Harry Belafonte, Martin Sheen, Heather Graham and many more.