Contest: The Aura On DVD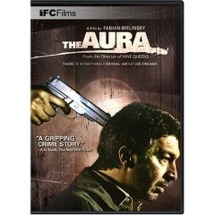 The Aura will hit DVD store shelves on April 10th, and we have a copy for one lucky /Film reader. All you need to enter is to e-mail us with the reason why you should win. On April 15th we will e-mail the winner with the best answer. More information on the release can be found after the jump.
The Aura was awarded Best Film by the Argentinean Film Critics Association in 2006 and was the winner of Best Film at the 2005 Havana Film Festival.
The film was nominated for the Grand Jury Prize at the 2006 Sundance Film Festival and was Argentina's official submission for Best Foreign Language Film for the 2006 Academy Awards.   The Aura DVD also includes "Making The Aura," and "Behind-the-Scenes" bonus features.
On his first ever hunting trip, in the calm of the Patagonian forest, a shy taxidermist who secretly dreams of executing the perfect robbery stumbles upon an opportunity to make his dreams come true. Caught up in a world of complex new rules and frightening violence, His lack of experience puts him in real danger.
And he has another complicated liability: he is an epileptic. Before each seizure he is visited by the "aura": a paradoxical moment of confusion and enlightenment where the past and future seem to blend. These attacks appear without notice when he least expects them, just when he needs all his wits about him.