New Chuck & Larry Movie Poster Looks BLAH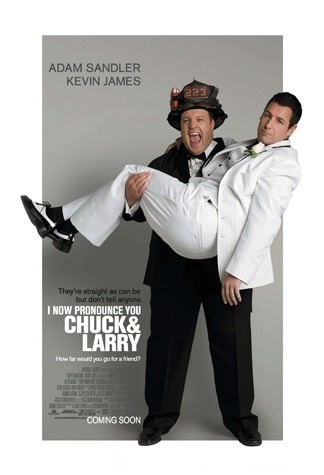 JoBlo has the official movie poster for the Adam Sandler/Kevin James comedy I Now Pronounce You Chuck and Larry (Movie Trailer). Doesn't it look cheap? Fan-made even? The Spider-Man 3 Poster we just uploaded looks way more glossy than this one, and the Spidey poster may very well be fan created. I liked the promotional poster that was displayed at ShoWest more, and that even looked cheap.
The movie stars Adam Sandler and Kevin James as two straight firefighters who pose as a gay married couple in order to qualify for their department's domestic partner benefits. "They're as straight as can be, but don't tell anyone." Jessica Biel, Steve Buscemi, Dan Aykroyd, and Ving Rhames co-star.
The movie hits theaters on July 20th 2007, head-to-head with Hairspray, a week after Harry Potter, and two weeks following Transformers (ie expect this film to probably get lost in the Summer shuffle).