Contest: Jump In! On DVD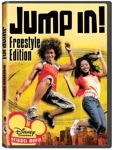 Jump In! hit DVD store shelves on April 3rd, and we have a copy for two lucky /Film readers. All you need to enter is to e-mail us with the reason why you should win. On April 11th we will e-mail the winners with the best answers. More information on the release can be found after the jump.
Jump In! Freestyle Edition will be release just in time for Easter.   Starring Corbin Bleu (HIGH SCHOOL MUSICAL) and Keke Palmer (AKEELAH AND THE BEE) in her Disney Channel debut, JUMP IN! is a coming-of-age story about Brooklyn teenager Izzy Daniels (Bleu) whose father dreams of him becoming a champion boxer.  When his neighbor Mary (Palmer) asks him to substitute for a jumper on her double Dutch team in time for the city championship, Izzy jumps in and discovers a passion for the world of competitive jump roping.  Rounding out the primarily African-American cast are David Reivers (POSEIDON) and Shanica Knowles (HANNAH MONTANA).
Filled with exciting bonus features, the JUMP IN! DVD includes the exclusive "Learning the Moves", in which Corbin Bleu hosts an instructional Double Dutch jump rope video so fans can learn the moves at home, a an exclusive pop-hop music video, "Jumpin'" from the movie's soundtrack performed by Keke Palmer.  Rounding out the bonus features is a music video from rising pop sensation T-Squad performing their song "Vertical" and a making-of featurette "Inside the Ropes."