Edgar Wright Says There Will Be Third Film In Three Flavor Trilogy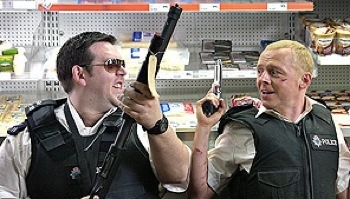 When we sat down with Hot Fuzz director Edgar Wright this week, he revealed that the Shaun of the Dead trio will be making one last film in what they call the Three Flavor Trilogy:
Yeah, we do have an idea. Simon and Nick are writing something and we've just formulated an idea for the third one in what we're calling the three flavor trilogy – different films that all contain blood and ice cream, and that's the only link between the three.
And we hate to think of ourselves as spoofers. Particularly, we try to find a story within a genre that appeals to us in some way. Shaun of the Dead is really about turning 30. Hot Fuzz is in a weird way, it's not autobiographical at all, but it is kind of based on where me and Simon grew up. I think it's about finding that emotional hook within a genre, and it all starts to become organic after that. So it might very well be in a genre, mainly because we like making films in the UK that people in the UK don;t make. They make plenty of wordy oscar hungry kind of films. We don't make many genre films.
Simon Pegg then commented, "We're not going to be making a period piece, let me put it that way.
Hot Fuzz hits theaters on April 20th.