Contest: Godzilla Raids Again And Mothera Vs. Godzilla On DVD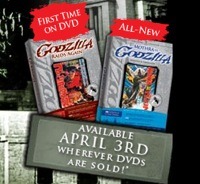 Godzilla Raids Again and Mothera vs. Godzilla hit DVD store shelves today (April 3rd), and we have a copy of both films for two lucky /Film readers. All you need to enter is to e-mail us with the reason why you should win. On April 9th we will e-mail the winners with the best answers. More information on the release can be found after the jump.
Godzilla Raids Again
This sequel to the original and hugely successful Godzilla was rushed to the theaters six months after the release of the first film in 1955. The heavily re-edited  US version was released a few years later in 1959 and features the voice of Star Trek's George Takei. Two new monsters emerged: the first similar to the original Godzilla that was killed by the oxygen destroyer in the first film, and also named Godzilla, the second a spiny dinosaur called Anguirus. The massive battle begins on Iwato Island, tumbles into the ocean, and resurfaces on Osaka, threatening to level the city under the monsters' rage. Special bonus features include the "Art of Suit Acting" featurette.
Mothra vs. Godzilla
aka Godzilla vs. The Thing Originally released in the US as Godzilla vs. The Thing, this fourth installment in
the Godzilla series is considered by many fans as one of the best of the series. The movie was released in Japan and the US in 1964. When a giant egg washes up on the shores of Tokyo after a typhoon, greedy businessmen seize the opportunity to
exhibit the item at an amusement park for profit. The shobijin, fairies from Infant Island, come to plea for the egg's return to its rightful owner, Mothra, but the men refuse the request. Soon Godzilla awakens and begins a trek across Tokyo, heading
straight for Mothra's egg. Can Mothra save her offspring from the destruction of Godzilla? Can Tokyo survive this epic monster battle? Special bonus features include an Akira Ifukube biography with a tribute by Shogo Tomiyama and the
original Japanese trailer. Additional bonus features available on both DVDs include audio commentaries and
English subtitles for the Japanese version