Grindhouse Hits Theaters Early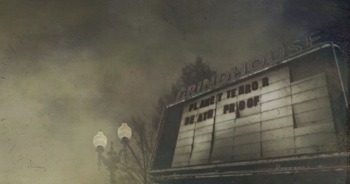 Grindhouse will be hitting theaters early with late night screenings in 13 markets. Check out the press release below.
NEW YORK, NEW YORK (April 4, 2007) â€" Dimension Films will sneak GRINDHOUSE, from acclaimed filmmakers Robert Rodriguez and Quentin Tarantino, into theatres with exclusive late night engagements in 13 cities tomorrow, April 5, 2007.  Two of the most renowned filmmakers go back to back with GRINDHOUSE, a double bill packed to the gills with guns and guts.  The unprecedented project from the longtime collaborators (FROM DUSK TILL DAWN, FOUR ROOMS, SIN CITY) presents two original, complete films as a double feature.
GRINDHOUSE exclusive late night engagements begin Tomorrow, April 5, 2007 in the following markets, and will be released nationwide by Dimension Films Friday, April 6, 2007.
Atlanta
Boston
Chicago
Dallas
Houston
Las Vegas
Los Angeles
Miami
New York
Philadelphia
San Francisco
Seattle
Washington DC
ABOUT GRINDHOUSE
Grind House â€" noun â€" A downtown movie theater – in disrepair since its glory days as a movie palace of the '30s and '40s – known for "grinding out" non-stop double-bill programs of B-movies.
From groundbreaking directors Quentin Tarantino and Robert Rodriguez comes the ultimate film experience: a double-bill of thrillers that will recall both filmmakers' favorite exploitation films. GRINDHOUSE will be presented as one full-length feature comprised of two individual films helmed separately by each director.  Tarantino's film, "DEATH PROOF," is a rip-roaring slasher flick where the killer pursues his victims with a car rather than a knife, while Rodriguez's film explores an alien world eerily familiar to ours in PLANET TERROR.  Welcome to the Grindhouse – it'll tear you in two.
Starring Rose McGowan, Marley Shelton, Freddy Rodriguez, Josh Brolin, Jeff Fahey, Michael Biehn, Naveen Andrews, Stacy Ferguson, Elise and Electra Avellán, Kurt Russell, Sydney Tamiia Poitier, Vanessa Ferlito, Jordan Ladd, Tracie Thoms, Rosario Dawson, ZoÃ" Bell, Mary Elizabeth Winstead, Eli Roth andOmar Doom, GRINDHOUSE also showcases faux trailers from Eli Roth (CABIN FEVER, HOSTEL and the upcoming HOSTEL PART II), Edgar Wright (SHAUN OF THE DEAD and the upcoming HOT FUZZ) and Rob Zombie (HOUSE OF 1000 CORPSES AND THE DEVIL'S REJECTS).
For more info please go to:Â  www.grindhousemovie.net