Video Footage: Kurt Russell Vs. Eli Roth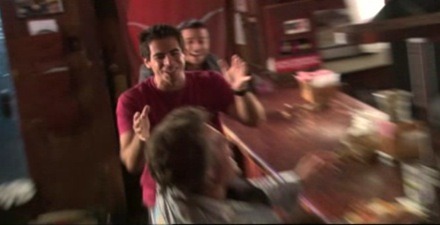 When we sat down with Hostel director and Grindhouse star Eli Roth last week, he mentioned that Quentin forced him to insult Kurt Russell in front of his face during one take. Russell threw a bowl of Nachos at Roth, who apologized endlessly proclaiming his fanboy respect/love for the Escape from New York star.
"There's this scene at the bar, and he was like "Just make up some stuff about Kurt Russell." I never met Kurt Russell and I was so excited to meet him and be in a scene with him. And there I was just rattling off insults, just going off on him and after the first take, Quentin goes "Cut!" and the whole crew breaks out laughing and Kurt just threw a whole bowl of Nachos hit me, and he was like "You dick!" And I was like "Sorry, I'm sorry! You're my hero! I'm so sorry! Quentin told me to! It's his fault!" But it was great."
Well guess what, we found the footage. What you see below is a behind the scenes clip from Grindhouse of the whole situation. We thought it was funny enough to spend an hour trying to capture it an encode it for online playback. So please enjoy.
[flv:http://www.slashfilm.com/wp/wp-content/trailers/eliroth4.flv 450 300]
See Russell and Roth in Grindhouse, in theaters on April 6th.