Contest: Rank On DVD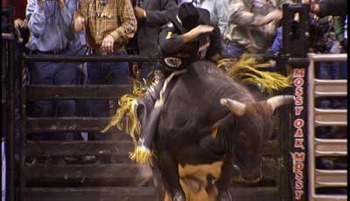 Rank will hit DVD store shelves on April 3rd, and we have a copy for one lucky /Film reader. All you need to enter is to e-mail us with the reason why you should win. On April 7th we will e-mail the winner with the best answer. More information on the release can be found after the jump.
Seven days, 45 finalists, one World Champion. Shot on location in Las Vegas, Nevada; BULL RIDER takes us from the ranch to the arena for the fascinating struggle of the three highest ranking bull riders competing for the title of PBR World Champion. The three contenders: Justin McBride, a third generation bull rider; Mike Lee, 21 year old born again Christian and Adriano Moraes, who has been riding bulls professionally since the age of 18.
This documentary brings the gritty reality of this hazardous sport into focus for the first time. From preparations to rides through severe injuries and finally, victory for one: a gold belt buckle and a check for one million dollars.