Interview With Grindhouse And Lost Star Naveen Andrews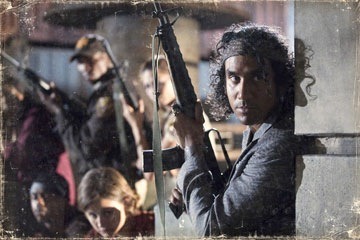 On March 25th, we had the opportunity to talk with most of the stars of Grindhouse. We will be posting the interviews leading up until the film's release on April 6th 2007.
We sat down with Naveen Andrews (Lost, The English Patient) to talk about his role as Abby in Robert Rodriguez's Planet Terror and much more.
Highlights:
* Finding time to make movies on the Lost Hiatus
* Auditioning for Planet Terror
* Indoctrination to the Grindhouse films
* "They were interminable and they were terrible. I thought they were horrible films, dismal."
* Shooting Lost vs. Shooting Grindhouse
* A Lost Movie?
* Talking Lost Season 3
* Keeping Things Secret
* Playing the Same Character for Years
* Not being Typecast
* His Indian/European heritage
* English Snobbery
* His desire to work with Martin Scorsese
* The Jar of Balls
* An Engagement?
* What's Next? Rest with his Family
* Living in Hawaii and Los Angeles
* Playing Guitar in his downtime
* Being a Father
* Playing Music on the Set with Robert
* His Grindhouse Theme Music
* Favorite Musician: Hendrix