Rosario Dawson Knows Nothing Of Kevin Smith's Romantic Comedy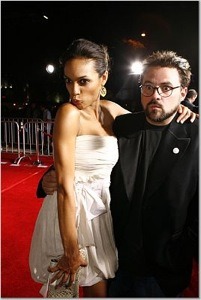 Clerks 2 director Kevin Smith has been very vocal about his upcoming slate (or may-be he's just very vocal period), which includes a horror film and a romantic comedy he wrote for Clerks 2 star Rosario Dawson. So when we asked Dawson about the project, we were surprised to learn that the Mallrats director hasn't even approached her, YET.
"No. I keep hearing that. The Weinsteins have told me that, but I have not had that confirmed from Kevin so I'm not taking that on," Rosario told /Film at the Grindhouse Junket. "I've been going back and fourth talking with him just in general. I think he's phenomenal and I hope he's there at the Premiere on Monday [which he was] because the last time I talked with him he was in Canada. So I can't say. I know that I'm a rabid ridiculous huge fan of his and love him to pieces and would love to work with him again on anything. So I'll put that out there and hopefully it will get back to him."
Smith was recently in Canada filming a television pilot, so it even appears that the Rent star talked with him recently (and probably even more recently at the Grindhouse premeire last week). I just find it extremely odd that, at least according to Rosario, Smith has not mentioned anything to her about the script. It's especially odd since it appears they have a personal off-business friendship/relationship.
Smith started talking about the supposed romantic comedy project last May:
"She knows I'm writing it and she knows there's a part for her [Dawson]," said Smith.
Rosario is in Grindhouse which hits theaters on April 6th.
Photo Credit: GenArt