Blind Item: Director Can't Communicate With Actors, Says Rosario Dawson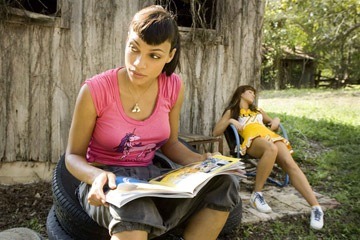 While I'm not a celebrity gossip fanatic, I do love reading the New York Post's blind items. It's always fun to try to figure out who they are talking about from the elaborate set of clues. And it also helps that the stories usually involve some really bad stuff (hence being in the blind item section to avoid lawsuits). Anyway, when we were talking with Rosario Dawson about Grindhouse, she inadvertently went off on a tangent regarding a director that doesn't know how to communicate well with actors. Here is what she told us:
I mean, normally as an actor I'm hired, and I'm hired for a third of the process. So I'm not there for Preproduction and no-one asks me for my opinion on the post. So it can be very frustrating sometimes after actually. Especially when you are working with a director who isn't great at talking to actors. It can be really frustrating to watch the movie later and go "oh, is that the movie you wanted because if you said that, we all could have collaborated a lot better with you, but because you aren't good at talking to actors, you shut us down, and I watch half your actors walk through their performance. It's really too bad. It's not somthing you experience at all with Kevin [Smith] or with Rob [Zombie].
She then went on to compliment Quentin, Robert, Stone, and Spike. So the question is: Who is the horrible director Rosario speaks of?
I think off the bat you can eliminate the following directors due to their track record with actors, background as actors turned directors, or from Dawson's previous glowing praise: Larry Clark (Kids), Spike Lee (He Got Game, 25th Hour), Edward Burns (Sidewalks of New York), Ethan Hawke (Chelsea Walls), Rob Zombie (The Devil's Rejects), Oliver Stone (Alexander), Kevin Smith (Clerks 2), Robert Rodriguez (Sin City), Quentin Tarantino (Grindhouse).
That leaves the list of the following 10 Directors:
Craig Bolotin (Light it Up), Kris Isacsson (Down to You), Harry Elfont & Deborah Kaplan (Josie and the Pussycats), Peter Mattei (Love in the Time of Money), Barry Sonnenfeld (Men in Black 2), Ron Underwood (The Adventures of Pluto Nash), Billy Ray (Shattered Glass), Peter Berg (The Rundown), Stephen Marshall (This Revolution), Chris Columbus (Rent).
So the question is: Which director(s) is Rosario Dawson referring to? Anyone have any guesses?
See Rosario in Grindhouse, which htis theaters on April 6th.