The Nanny Diaries PUSHED BACK For Award Consideration?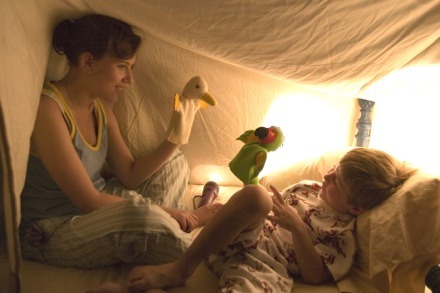 The Weinstein Company is moving the big screen adaptation of The Nanny Diaries (trailer) back FIVE MONTHS. The new Scarlett Johansson chick flick was scheduled to hit theaters on April 20th, but will now bow on September 7th 2007.
While a last minute release move is usually a bad sign, Harvey Weinstein claims the movie was made to push the film in awards contention. The movie will be released right at the beginning of "Oscar Season", and the DVD release will coincide with the Golden Globes. The studio head also claimed that he didn't want the film to get lost in the Summer of Sequels. I've seen the trailer, and I'm not buying the "awards season" excuse. Something smells fishy.
The Nanny Diaries was helmed by Robert Pulcini and Shari Springer Berman (American Splendor) and co-stars Laura Linney, Paul Giamatti, Chris Evans and Alicia Keys.