I Now Pronounce You Chuck And Larry Movie Trailer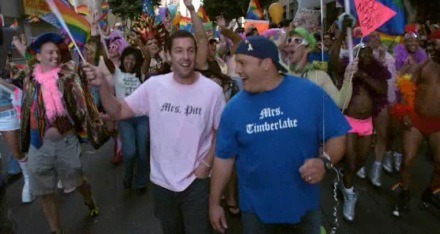 I never thought I'd be interested in seeing a comedy about Adam Sandler and Kevin James getting married, but this actually looks some-what promising. The movie trailer for I Now Pronounce You Chuck and Larry (Poster) is now online. Check it out on Yahoo! Movies in High Definition. If my description thus far hasn't interested you, let me just say there is a sequence in the trailer that involves Jessica Biel in underwear and a bra. Steve Buscemi, Dan Aykroyd, and Ving Rhames also co-star.
The movie hits theaters on July 20th 2007, head-to-head with Hairspray, a week after Harry Potter, and two weeks following Transformers (ie expect this film to probably get lost in the Summer shuffle).