New Fido Poster Features /Film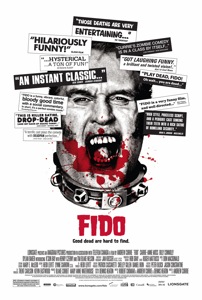 We saw Fido at the Sundance Film Festival and nothing but great things to say about it (You can read our review here). When I interviewed director Andrew Currie last month (an interview which will appear closer to the film's theatrical release) he even quoted a line from my review. And now it looks like Lionsgate took notice too.
The new Fido poster, courtesy of CHUD, features critic quotes surrounding a zombized Billy Connelly's head. You can click on the photo to the right for a closer look.
Fido hits theaters on June 15th 2007.