Evan Almighty Movie Trailer To Premiere During The Office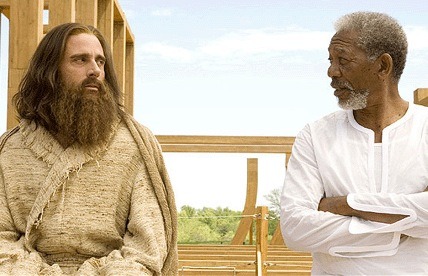 The trailer for Universal Pictures' Bruce Almighty sequel, Evan Almighty, will premiere during NBC's Night at the Office three hour marathon event.
The Night at the Office event will air on March 29th from 8:00-11:00pm eastern (7:00pm-10:00pm central).
Steve Carell, reprises his role as the polished, preening newscaster Evan Baxter, the next one anointed by God to accomplish a holy mission. Director Tom Shadyac's (The Nutty Professor, Liar Liar, Bruce Almighty) new film follows Evan, newly elected to Congress, as he shepherds his family to suburban northern Virginia. Once there, his life gets turned upside-down when God (Morgan Freeman) appears and mysteriously commands him to build an ark. But his befuddled family just can't decide whether Evan is having an extraordinary mid-life crisis or is truly onto something of Biblical proportions.
Evan Almighty also stars Lauren Graham, John Goodman, John Michael Higgins, Jimmy Bennett, Wanda Sykes and Jonah Hill.
The movie will be released on June 22nd 2007.