Kurt Russell On The Escape From New York Remake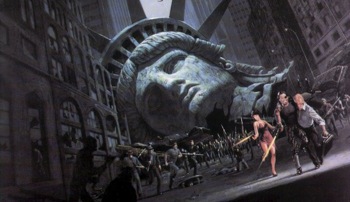 A couple weeks ago New Line Cinema won rights to remake Escape From New York with 300 star Gerard Butler attached to star. But what does Kurt Russell, the star of the original film think of all this? We found out.
"My standard joke is, 'Oh, my God, wait until stuntman Mike hears about this?' Look, they're going to do their movie. Our movie is there, it's there to be seen. It's always been there and it'll always be there," Russell told /Film at the Grindhouse Junket. "I think that the motion picture business is not a sacred business and I think that everyone should do what they want to do."
"My personal take on it is that it's 2007 and I'm doing 'Grindhouse.' That was twenty seven years ago. God, I don't even think about it. It doesn't register. It's like, 'Whatever.' They did some Disney movies that I did, they remade some of those. They did 'Stargate' which turned into the longest running sci-fi television show of all time. They took 'Backdraft' and turned it into two different television series on TV. They're going to redo 'The Thing.' They're going to do a remake of 'Escape from New York' and I'm sure that they'll remake some other movies that I'm done. Whatever."
And will Russell make a cameo in the new Escape?
"If they want to give me $25 million to say hello or something I'll consider that."
I wouldn't count on it.
You can see Kurt in Grindhouse which hits theaters on April 6th 2007.