Movie Review: Pride Is An Sports Film With A Sense Of Humor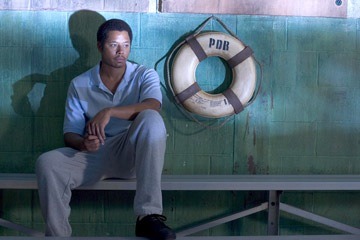 Terrence Howard plays Jim Ellis, a charismatic teacher who founds and coaches the Philadelphia Department of Recreation Swim Team. With the help of P.D.R. custodian Elston (Bernie Mac), the all African-American team must face racial discrimination, urban violence, and unsympathetic city officials on its way to the state championships.
Based on true events, director Sunu Gonera's version of the early 1970's is a parody of the infamous decade, filled with big hair and classic 70's urban pop hits. Tom Arnold might be a bit over-the-top as the racist rival team coach. It would have been interesting to see what Arnold could have done if he took a more serious approach.
Pride is your typical by-the-numbers inspirational sports drama (ie Man movie) with a twist; it has a sense of humor.  The team members proclaim individually "This is our house coach" in an overly cheesy "We Are Marshall" moment, which seems to be the centerpiece of the trailers and television advertising. Fear not, Pride is a much different movie. Be prepared to laugh and have a good time./Film Rating: 6.0 out of 10