Nancy Drew 2 Announced, Emma Roberts To Return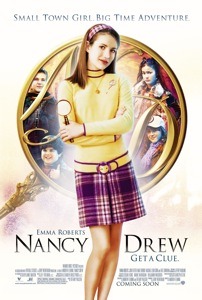 Now that Veronica Mars may be canceled (we are still unsure?), all we have to look forward to is the Nancy Drew movie (Movie Trailer). Well fear not, star Emma Roberts has already signed on for a sequel.
In the first film, Teen detective Nancy Drew (played by Emma Roberts) accompanies her father on a business trip to Los Angeles, where she happens upon clues to a murder mystery involving a movie star. Based on the book series created in 1930 by Edward Stratemeyer, of which over 200 million books have been sold worldwide.
Producer Jerry Weintraub, director Andrew Fleming and Roberts also announced another family friendly film for Warner Bros called Rodeo Girl. But who cares about that movie? Really.
Nancy Drew hits theaters on June 15th 2007.