Meet The Robinsons Music Video Ruins Classic 1980's Song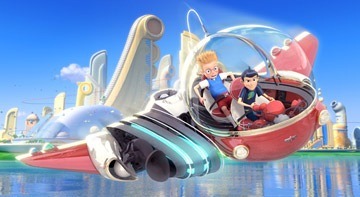 Okay, if you want to see some new footage from Disney's Meet The Robinsons, you're gonna have to sit through a horrible modern pop remake of the classic 80's tune Kids in America, now titled "Kids in the Future" argh (and I usually love covers and remakes – I'll take Letters to Cleo' version of I Want You To Want Me, off of the 10 Things I hate About You Soundtrack, over Cheap Trick's anyday). Check out the video below:
[flv:http://www.slashfilm.com/wp/wp-content/trailers/robinsonsmusicvideo.flv 450 345]
The music video is by a group called the Jonas Brothers (14 year old Nick, 17 year old Joseph and 19 year old Kevin have no excuse).
The Meet The Robinsons soundtrack hits store shelves on March 26th 2007. The soundtrack features "Little Wonders" by Rob Thomas, a cover of the theme song "There's a Great Big Beautiful Tomorrow" from the classic Disney attraction the Carousel of Progress by They Might Be Giants. Now that sounds interesting. Disney has a sample of the soundtrack up on the Robinsons viral music player.
Kids in America is a 1981 song performed by Kim Wilde. It was written by Ricky and Marty Wilde. It appears on her 1981 debut album, Kim Wilde, and was also released as her debut single. It reached number two in the UK singles charts, and was a top 25 hit in the US the following year.