Contest: Run's House On DVD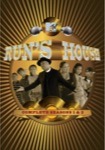 Run's House hits DVD store shelves on March 20th, and we have a copy for three lucky /Film readers. All you need to enter is to e-mail us with the reason why you should win. On March 30th we will e-mail the winners with the best answers. More information on the release can be found after the jump.
RUN'S HOUSE is a reality sitcom about Hip-Hop's First Family.  Joseph Simmons is Run from Run DMC â€" rap icon, husband, father, preacher and businessman. He's back in the studio recording his first ever solo album, but the rapping may be the easy part.  Being left in charge of the house while his wife, Justine, tends to business in the city? Teaching anger management to a grade-schooler?  That's hard. It's Run's House, but the Simmons family is full of personalities so there's not much peace and quiet for Reverend Run.
RUN'S HOUSE Complete Seasons 1 & 2 three-disc set is priced at $39.99 SRP (U.S.) and C$54.99 (CAN).
Title   RUN'S HOUSE Complete Seasons 1 & 2
Length   316 Minutes
MPAA Rating   Not Rated
Presented In   Full screen format; Dolby Digital English Stereo
Catalog #Â Â  803174
Street Date   March 20, 2007