Captivity Billboard Banned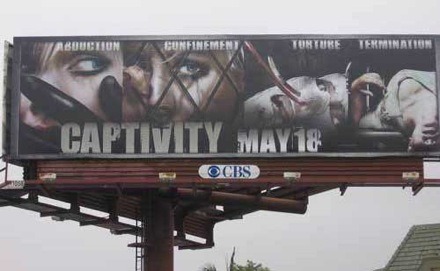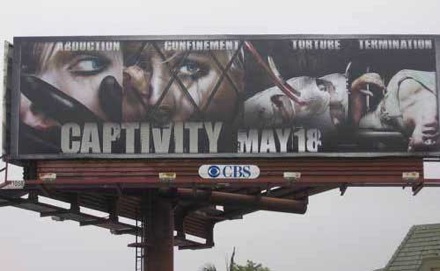 Tuesday our Google traffic was through the roof. What caused the big stir? The Captivity Poster. It turns out that Lionsgate and the MPAA received a lot of phone calls objecting to the gratuitous depiction of torture and murder.
The billboard, pictured above, shows four pictures with captions. "Abduction" features Elisha Cuthbert with a gloved hand over her face; "Confinement" features Cuthbert behind a chain link fence with a bloody finger; "Torture" shows Cuthbert, covered in white gauze, with tubes shoved up her nose; and "Termination" shows the actress with her head thrown back.
The producers claim the billboards went up by mistake, and are paying for the removal of the ads. After Dark CEO Courtney Solomon says the wrong files were sent to the printer, who then passed them on to the billboard company without approval from any executives.
The billboards, which were first posted March 13, appeared on 30 LA-area billboards and 1,400 New York taxi tops. The movie studios had no idea that advertisements went up until they returned from the ShoWest convention in Las Vegas.
I don't think the images are that much scarier than some of the images used in The Hills Have Eyes billboards last year. But I'm probably in the minority. So what do you guys think? Are these ads going too far?