New Line To Remake Escape From New York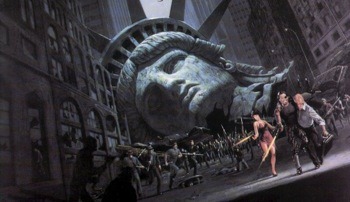 New Line Cinema has won the bidding war for the Escape from New York remake starring Gerard Butler (300) which we told you about a couple days back.
Butler will play Snake Plissken, the one-eyed convict who must rescue the President of the United States from an inescapable maximum security prison formerly known as Manhattan. The film was set in a dystopian then-future 1997. Kurt Russell played the role in the original movie.
Black Hawk Down screenwriter Ken Nolan is attached to write the screenplay. John Carpenter will server as one of the executive producers. No director is attached but I would assume that producer Neal Moritz would probably bring in someone he's worked with before. Let's hope it's not Rob Cohen (xXx). What about Constantine director Francis Lawrence? Too bad Michael Bay is too busy with other projects.