Contest: Evil Lies Within Her In REQUIEM On DVD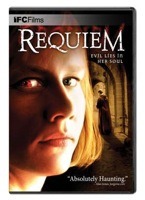 Evil Lies Within Her in REQUIEM hit DVD store
shelves on March 6th, and we have a copy for two lucky /Film readers. All you need to enter is to e-mail us with the reason why you should win. On March 15th we will e-mail the winner with the best answer. More information on the release can be found after the jump.
The internationally renowned film Requiem was an Official Selection at the Toronto International Film Festival, Berlin International Film Festival and Seattle International Film Festival.  Sandra Hüller won Best Actress awards at the Berlin International Film Festival, German Film Awards, Bavarian Film Festival, Catalonian International Film Festival and was nominated for Best Actress at the European Film Awards.
Michaela growing up in a deeply religious home leaves her family to secure her first taste of freedom.  Her new friendships and budding love for Stefan and her new friendships crack open her protective shell resulting in a breakdown, causing a frightening rush of grotesque faces and voices.  Michaela seeks help from a priest who reinforces her conviction that she is possessed.  The dense religious and moral ties within her family leave her no option but to succumb to her fate.