SXSW Reviews: Disturbia, The Lookout, Diggers, The King Of Kong, Them And More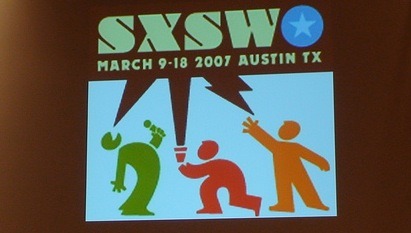 The 2007 South By South West Film Festival is in full force, and we have a round-up of the early buzz:
All The Boys Love Mandy Lane
"...a valiant low-budget effort and one that definitely deserves to be seen on the big screen whenever the Weinsteins release, likely Fall. It's certainly better than the vast majority of the genre sequels/remakes that studios pump out by the dozen now. Flawed, a little slow to start, but it's an interesting original story, so it's fresh almost by default."
Quint, Aint it Cool
Big Rig
"Pray's style remains intact from his Scratch days. For a movie about big trucks crossing the country, it never gets boring to look at. Also, the music is top notch, very kickass stuff here from Buck 65."
Monki, Aint It Cool
Black Sheep
"Black Sheep is this year's Slither."
Josh Tyler, Cinema Blend
Confessions of a Superhero
"...if you're looking for a solid look at the entry-level jobs in the dirty business of dreams — where aspiring hopefuls cloak themselves in borrowed fame to eke out a few bucks — Confessions of a Superhero never loses sight of pop culture or personal struggle, and sticks with you thanks to a careful mix of big images and small moments."
James Rocchi, cinematical
Disturbia
"Ultimately, Disturbia fails to live up to the genre maker that it was modeled after."
Eric Moro, IGN.com
"This is by far Caruso's best film since SALTON SEA. It has everything. Romance, crime, suspense, gags, beautiful girls in bathing suits, blood, tears... everything."
Quint, Aint it Cool
"...an efficient and scary ride, with an icy, rattling performance from Morse and a solid one from LaBeouf selling the teen spirit."
Peter Martin, Twitch Film
Diggers
"while the overall production is "indie" and small, the goals of the filmmakers seem equally unambitious and minute. That might be construed as a negative, but if the end result is memorable and affecting, then what's so bad about that?"
Scott Collura, IGN.com
"Diggers provides just enough wit, warmth and insight to warrant a visit."
Scott Weinberg, cinematical
Election Day
"The film represents a good cross-section of American culture and political stances."
Monki, Aint It Cool
Itty Bitty Titty Committee
"...the universality of the message and the journey is what truly elevates the film, and kudos to Jamie Babbit for delivering on her continued growing potential as a filmmaker-storyteller. Go see the "Itty Bitty Titty Committee," and then change the world, dammit!"
Mark Bell, Film Threat
Monkey Warface
"Monkey Warfare doesn't close with every question answered and every lesson learned; it leaves you stumbling back into the world as unsettled, unfixed, uncertain as Dan, Linda and Nancy are by the film's end. That's a rare pleasure, and one Monkey Warfare delivers without flinching."
James Rocchi, cinematical
Sisters
"This is a movie so bad it hurts. I came in with a smile, and left with shooting pains behind my eyes. Watching it is like being wrongfully imprisoned, and if I wasn't my job to sit through it and give the entire thing a fair shake from beginning to end, I'd have grabbed a spoon and started digging my way to China."
Josh Tyler, Cinema Blend
The King of Kong
"Like all great documentaries, this one transcends its subject matter, so that in the end, it's not just about two guys who play videogames, but about the nature of competition, how we cope with winning and losing and what that tells us about ourselves."
Cindy White, IGN.com
"THE KING OF KONG is one of those rare documentaries that is both totally engaging and completely entertaining."
Quint, Aint it Cool
The Lookout
"...keeping the focus on the characters as he builds tension towards the heist and its eventual fallout. Given that every heist movie nowadays has to be bigger and more elaborate than the one that came before it, the old school approach employed by The Lookout makes it a solid and entertaining throwback to the crime thrillers of yesteryear."
Stax, IGN.com
"It's the best movie I've seen so far this year, and if it's not the best thing I see at this festival, then know that I'm having one helluva time."
Josh Tyler, Cinema Blend
"The Lookout isn't looking to set the world on fire; it's trying to be a modest piece of entertainment, neither portentous or leaden nor glib or slick. In that, Frank and his cast succeed; if you like a nicely-crafted crime film with a few surprises and subtleties under the initial clean-and-cool pitch, keep an eye open for The Lookout."
James Rocchi, cinematical
"If you can put aside your short-attention span and allow yourself to believe that the end will be worth it, then you'll probably walk away with a positive vibe for "The Lookout."
Mark Bell, Film Threat
"...a stealthy neo-noir drama that isn't afraid to take its time developing characters on the way to the payoff of a neatly designed caper scenario."
Joe Leydon, Variety
The Prisoner, or: How I Planned to Kill Tony Blair
"The Prisoner flirts with being nothing more than a glorified segment one might find on 20/20 or the like... comic book art and Kubrick-esque subtitles notwithstanding."
Scott Collura, IGN.com
"It's mildly ironic, has some funny speeches, and takes place on a single, unchanging set. Throw in some musical numbers and you've got a Broadway hit. As a movie, it seems out of sorts."
Josh Tyler, Cinema Blend
The Unforeseen
"...inspiring in its examination of the power of the individual to fight for environmental preservation. In the same breath, however, the film is utterly frightening in its depiction of the dire fate of our natural resources."
Sally Foster, Film Threat
Them (Ils)
"...but when the script is as thin as this one and so clearly reliant on the revelation of who "them" are... well, you hope for more."
Scott Collura, IGN.com
"These directors aren't trying to reinvent the wheel, they are just trying to deliver solid tension from tried and true predicaments and acting that seems authentic to how reasonable people would behave. There is absolutely no gore and much of the violence is implied without being shown."
Walterego, Aint it Cool