Robert Rodriguez Talks Once Upon A Time In Mexico Sequels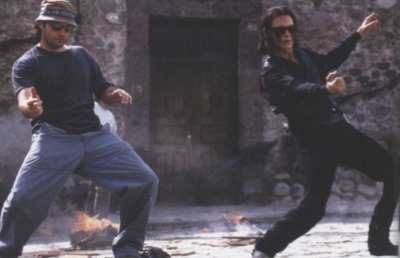 Robert Rodriguez broke onto the scene with the low budget action film El Mariachi, which spawned a trilogy (Desperado and Once Upon a Time in Mexico). Well now Rodriguez is thinking of returning to the series with another trilogy. Yes, you read that right, ANOTHER TRILOGY.
"I thought I could do two trilogies, but with only five movies because you could go El Mariachi, Desperado and Once Upon a Time in Mexico. But then Once Upon a Time in Mexico is the first one in series with the Blind Gunman where you do two more sequels, which would be Once Upon a Time in Mexico 2 and 3," explained Rodriguez at the Grindhouse 101 panel at the 2007 SXSW Film Festival. "So I thought, 'That would be really cool if I could do that.'"
And what's more, Johnny Depp seems up for it:
"So I cut together a trailer of some footage I had of Johnny Depp walking blind one night while we were doing Once Upon A Time in Mexico. I had Johnny come down to the edit room and I said, 'Hey, check this out.' And I did the voiceover for it while he was walking and I added music, and I said, 'The man with no eyes is back. Once Upon a Time in Mexico Part Two!' And Johnny goes, 'I'm there.' And I just thought, 'Wow.' I don't know if I'll ever get around to doing that, but I think it would be cool. I have all kinds of adventures for him."
In Once Upon a Time in Mexico, Depp played Sheldon Sands, a CIA Agent who recruits El Mariachi (Antonio Banderas) to kill General Marquez. As the plot unfolds, informants begin to turn on Sands. On the day of the Coup, he finds himself captured and blinded by his captors. And Depp (as often happens) stole the show, and became most everyone's most loved character from the film.
But who knows if Rodriguez will ever find time to make the films. Up next is Sin City 2 (possibly back-to-back with Sin City 3), and then Madman (which he will write, shoot, score, but not direct).