Spider-Man 3 Venom Trailer LEAKED Online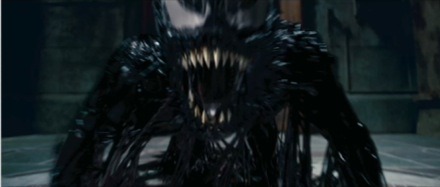 As you probably know, the new Spider-Man 3 trailer is playing in front of 300. Someone decided to upload a video taped copy online.
The trailer, which is available at Daily Motion, is almost the exact same cut that was shown at WonderCon 2007 in San Francisco last weekend. As always, the copy isn't great. I'm guessing someone captured this with a cameraphone. Either way, I'm sure Sony will release a high quality version online next week. So you might want to wait until then before viewing this. But obviously, there are probably a lot of people out there that don't want to wait. It's really a shame that Sony wouldn't make this trailer available online right away. They know that a copy would end up online before Saturday (as it did, although this time it wasn't on YouTube). And now the fans who are really excited about this flick are subjected to a subpar videotaped version of the advertisement (let's not forget, Sony is selling a movie here).
Spider-Man 3 hits theaters on May 4th 2007.