Rumor Killer: Pirates Of The Caribbean: At World's End DELAYED?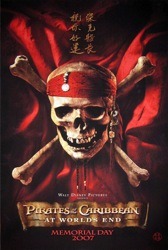 Today's big rumor concerns the release date of Pirates of the Caribbean: At World's End. The movie went into production without a finished script. Production problems pushed filming back. The movie went into post production in mid-November, not to be heard from since. No advertisements, no trailers, nothing. JoBlo today is reporting a rumor that the film will be delayed. But we have confirmed this rumor to be completely FALSE.
Disney could not reveal to us the trailer's release date, but did tell us it will happen soon enough and a announcement will be made shortly.