The Buzz: Black Snake Moan Is Offensive And Cliche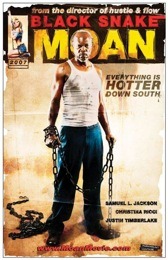 Black Snake Moan
Director: Craig Brewer (Hustle and Flow)
Starring: Samuel L. Jackson, Christina Ricci, Justin Timberlake, S. Epatha Merkerson, John Cothran Jr., David Banner, Michael Raymond-James, and Adriane Lenox
Running Time: 115 minutes
MPAA Rating: R for strong sexual content, language, some violence and drug use
Buzz Rating:
4 out of 10
The Good:
"Ricci's performance is brave and effective – the most provocative in a career that has rejected Hollywood norms. "
James Berardinelli, ReelViews
"It's hard to know what to make of the thing, though it has a sleazy charm, it's never boring and it goes a certain distance on Samuel L. Jackson's conviction. "
William Arnold, Seattle Post-Intelligencer
The Bad:
"The best thing about Black Snake Moan, a song title, is the blues soundtrack. The movie is an absurdly jarring collection of archetypal characters in miserable circumstances with a resolution that feels forced and tacked on."
Claudia Puig, USA Today
"Maybe Jackson should avoid any more movies with "snake" in the title."
Peter Rainer, Christian Science Monitor
"Be prepared to collapse into a hoot and a howl of hilarity at all the wrong moments."
Lisa Schwarzbaum, Entertainment Weekly
"Offensive on multiple levels — if only the plot had any levels at all — Black Snake Moan leaves no "Tobacco Road" cliche unsmoked. Ricci gives it her all, and then some, but even her body and Jackson's blues can't heal a movie that rockets plum off its nut."
Peter Travers, Rolling Stone