Contest: Journey To The End Of The Night On DVD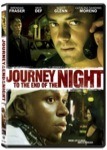 Journey to the End of the Night hit DVD store shelves yesterday (February 27th), and we have a copy for one lucky /Film reader. All you need to enter is to e-mail us with the reason why you should win. On March 6th we will e-mail the winner with the best answer. More information on the release can be found after the jump.
Cast: Brendan Fraser, Mos Def, Catalina Sandino Moreno (Maria Full of Grace), Scott Glen
SYNOPSIS
Encompassing a single, fateful evening in the sprawling megalopolis of Sao Paulo, JOURNEY TO THE END OF THE NIGHT is a gritty crime thriller about an illicit transaction gone awry...Two Americans in exile—Rosso (Scott Glenn) and his son, Paul (Brendan Fraser)—have been carving out a living in Brazil running a nightclub-brothel, but they both harbor dreams of getting out of the business once and for all. One night, it seems their prayers are answered when a customer leaves behind a suitcase in the club that contains the means for Rosso and Paul to change their fates. Rosso will take his beautiful, young wife Angie (Catalina Sandino Moreno) and their 5 year-old son Lazare to start over in a new city, far away.  Paul will escape mounting debt, an escalating coke habit, and finally be rid of his father (whom he despises and blames for all of his problems). It all depends on one person—a Nigerian immigrant named Wemba (Mos Def)—who must make his way safely through the perilous, nocturnal gauntlet of Sao Paulo.
Special Features
"Making Of" Featurette
5.1 Dolby Digital Surround
Previews
Spanish Subtitles
Close Captioned