Contest: Tideland On DVD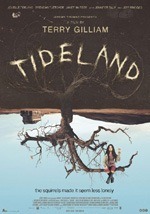 Tideland hits DVD store shelves today (February 27th), and we have a copy for one lucky /Film reader. All you need to enter is to e-mail us with the reason why you should win. On March 6th we will e-mail the winner with the best answer. More information on the release can be found after the jump.
Described by Terry Gilliam as "Alice in Wonderland" meets "Psycho," TIDELAND is a story that explores the resilience of a child and how she survives in bizarre circumstances.
Jeliza-Rose is a young child in a very unusual situation – both parents are junkies. When her mother dies, she embarks on a strange journey with her father, Noah, a rock'n roll musician well past his time.
The film drifts between reality and fantasy as Jeliza-Rose escapes the vast loneliness of her new home into the fantasy world that exists in her imagination. In this world fireflies have names, bog-men awaken at dusk, and squirrels talk. The heads of four dolls, long since separated from their bodies, keep her company: Mustique, Baby Blonde, Glitter Gal and Sateen Lips, until she meets Dickens, a mentally damaged young man with the mind of a ten-year-old. Dressed in a wet suit and speedo, he spends his days hiding out in junk heaped wig-wam turned submarine, waiting to catch the monster shark that inhabits the railway tracks. Then there's his older sister Dell, a tall ghost-like figure dressed in black who hides behind a beekeeper's mesh hood.