Poor Things: Borat's Brother Makes Movies
No, we're not talking about the long speculated Borat sequel. Ash Baron Cohen is making a movie. That's right, Sacha Baron Cohen's brother.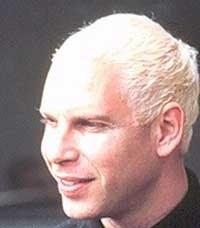 Ash Baron Cohen has actually been directing films since 1995. His previous efforts include Bang, Pups (which starred Micha Barton and Burt Reynolds), and This Girl's Life (James Wood, Kip Pardue, Rosario Dawson, Michael Rapaport). His first feature, Bang, was named one of the Top 10 films of 1997 by the Los Angeles Times.
Even if you've seen one of his films, you probably wouldn't know it because until know he's gone under the name "Ash". Yeah, that's right – just ASH. I wonder if that will change in the aftermath of Borat's success.
Let's take a look at some of Ash's previous work:
Telepopmusik music video directed by Ash for MTV Europe.
[youtube]wZH6zKKZ-KA[/youtube]
This Girl's Life Movie Trailer
[youtube]5bfa0eUzx_k[/youtube]
Wasteland Pants Commercial
[youtube]kfngEo2tu9M[/youtube]
Birthday Scene from This Girl's Life
[youtube]SVR3DSmozlQ[/youtube]
A Clip from Bang
[youtube]woHDclI7HQY[/youtube]
A clip from Little Warriors, a documentary about little children affected by AIDS
[youtube]wRqOgLD8HCc[/youtube]
A Clip from Pups
[youtube]XxhQCTakm6k[/youtube]
Let's talk about his new film: Shirley MacLaine and Olympia Dukakis are both in negotiations to star in the indie black comedy. The movie would reunite Steel Magnolias cast members MacLaine and Dukakis. Citizen Toxie: The Toxic Avenger IV screenwriter Trent Haaga penned the script. I'm not sure if that's a good thing.
Based on "true events," Poor Things follows two con-artist women who befriend and murder homeless men in order to collect their life insurance policies.
Filming will begin in early May in Los Angeles or New Mexico.