New Sunshine Movie Trailer And Movie Poster Revealed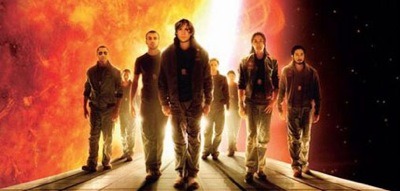 Check out the new trailer and poster for Danny Boyle's (Trainspotting, 28 Days Later) 2001ish philosophical space horror/drama.
[quicktime width="320" height="250"]http://www.slashfilm.com/wp/wp-content/trailers/sunshinetrailer.mov[/quicktime]
The new Sunshine trailer is cut to the same Requiem for a Dream score as the original. Told from Captain Kaneda's point of view, the trailer shows the crew dealing with the many problems aboard the ship, while quickly approaching death. And did someone say Aliens?
Plot Synopsis: 50 years into the future, the Sun is being destroyed from inside out by a type of highly stable form of matter that renders nuclear fusion impossible, by turning common matter on its own kind. The only hope is to send a team of astronauts to detonate a massive, highly energetic bomb, able able to destroy this strange matter and restore Sun's natural state.The movie stars: Chris Evans (Fantastic Four, Cellular), Cillian Murphy (Batman Begins, 28 Days Later), Rose Byrne (Troy, Wicker Park), Michelle Yeoh (Crouching Tiger, Hidden Dragon) and Troy Garity (Bandits, Barbershop).
Check out the poster below: